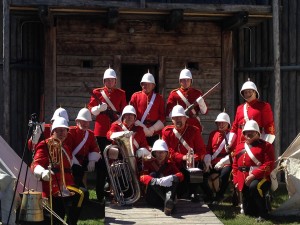 Welcome to the new home of the N.W.M.P Commemorative Association!
The mission statement of the N.W.M.P. Commemorative Association: The purpose of the society is to promote an awareness of the North-West Mounted Police and the Royal North-West Mounted Police; to collect, preserve and display historic police regalia and equipment, and to recreate the ceremonies, drills, music, traditions and history as a living museum for public education and enjoyment.
As the statement indicates, we are all about the history of the North-West Mounted Police in all its various forms. It is a huge topic, however, and it would be difficult or impossible for us to touch on more than a small part of it. So, we concentrate our efforts on the era from the Trek West (1874) to the end of the 1890's when many significant changes took place. We more closely focus our efforts on the 1880's in the part of the "North-West Territories" of what is now southern Saskatchewan and southern Alberta.
For more information about the association, see "About Us".
Again – Welcome and, please, come on in for a look. We hope you will return often!